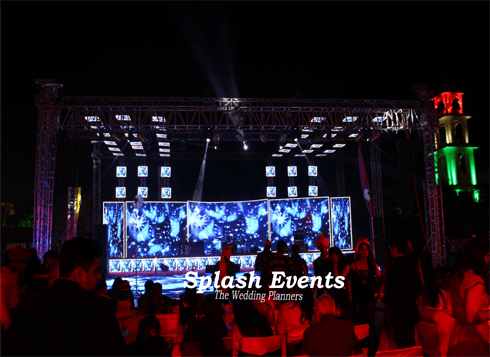 Indian weddings are not possible without sound and lights. All the wedding ceremonies from haldi, mehendi, sangeet, wedding, to vidai necessarily need sound and lights. Where all in Indian wedding sound and light are required let us understand program wise.
In haldi ceremony, the bride's women relatives, put haldi ubtan on the bride and while this ceremony is being performed traditional songs are sung which require mike and sound system to create wedding festivities feel.
In mehendi ceremony of the bride, all the women relatives wear rajasthani lehariya, bandejh and perform ghoomar dance which again necessarily require music system.
Soul of Indian sangeet ceremony is a good quality sound and lights system. Sangeet ceremony of Indian weddings has almost all the family members performing on dance numbers. Role of lights is extremely important in bride and groom dance. Dance choreographers plan bride and groom entry on stage with spot light and after that light effects are created with parkins and alfa lights. At the end of the party, all the guests dance their heart out in the dance party. All this necessarily requires sound and lights.
Vidai ceremony has specially created sound sequences.
Varmala also is customised based on client's choice.  Varmala ceremony has specially created stage, which is decorated with trux and special sound and lights effects are planned.
Rajasthan's destination wedding receptions have shehnai, nagada, ghoomar, mumal, chirmi, folk songs, sitar, santoor, instrumental music being played.
Hence we can see sound and lights are indispensable part of Indian weddings and they necessarily need to be programmed and planned for creating beautiful effect of all the wedding ceremonies.