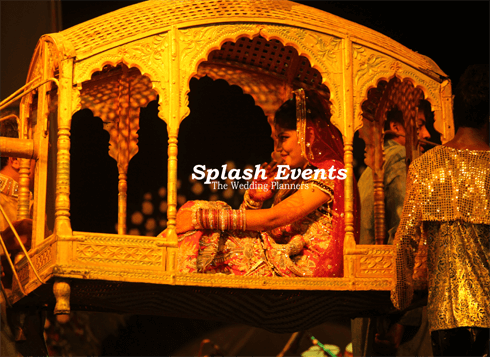 Vidai Ceremony is technically the one of the last wedding ceremony and after this the wedding ceremonies end .All the guests and the hosts go back to their homes. The real challenge starts for the bride and groom and basically more and more for the bride. The anxiety of leaving the home that was home for so many numbers of years and entering a new territory almost ,is at times, too much to be handled.
We at Splash Events with the help of, the bride, her family and her in-laws plan the vidai ceremony in the most balanced manner. By balanced vidai ceremony we mean the realization that time that was spent in the parents' house was beautiful and building on that the coming time in the groom's house and her new house will be all the more beautiful. The decor, the music, the setting is created for vidai ceremony that the bride is happy for the time that has gone and happy also for the coming time with her husband and a new home.
Wedding Season Always : In the land of diversity, we are fortunate that God has bestowed diverse weathers as well. As wedding planners in Rajasthan, we know and have experienced the distinct beauty of all the weddings and we will plan your wedding keeping in view the beauty of all the weathers, which is must as well. Let us see how we plan the weather specific weddings !